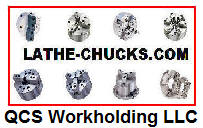 TOLL FREE 888-869-2424
KCM 3-JAW LARGE THRU HOLE WEDGE TYPE CHUCKS
This is a center open type chuck which has the largest opening at center among the wedge type chucks. It is widely used for chucking round bars.
It is possible to exchange jaws with hard jaws. Chuck adapter required.